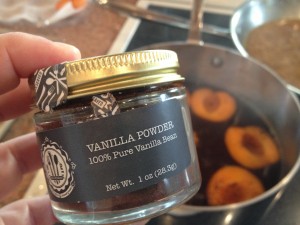 Vanilla-y Greatness in one little jar
It's summer again…yipee!!
I am an absolute freak for all things vanilla and love to support local companies which support local farmers. Maui Preserved is such a company.  They create a powdered vanilla that is easy to use and just plain old delicious. Don't ask me how they do it, they just do. Genius.
The newest experiment in my kitchen is to poach fruits in different teas. In this case, I have poached apricots in strong brewed chamomile tea and Maui Preserved Vanilla Powder. Don't poach the fruit too long, you still want it a wee bit firm and not mushy.
Remove the fruit to cool and reduce the poaching liquid to a syrup. Once reduced to a syrup, sweetened to your liking, I use organic agave syrup. Maple syrup would be nice, too. Hmmmm….I feel another post coming along (Smokey Oolong tea and organic maple syrup with a pineapple or pear, perhaps?)
Complete your vanilla poached apricot creation with the reduced chamomile syrup drizzled on the fruit and finished with fresh whipped cream or some vanilla mascarpone…again, a dash of Maui Preserved Vanilla Powder works great.
Happy summer, happy cooking, happy eating…now stop and sniff the vanilla.
{ 0 comments }