Very thrilled and humbled to have a spread in Edible Hawaiian Islands Magazine this summer.  The only caveat was "you have to cook on macadamia nut wood".  Hmmm…that's interesting and a great chance for me to dream up a menu that's new for me and out of my normal world of grill or stove.
So, I threw a few Maui grown New York strip steaks directly on the coals.  Yes, you read that right…directly on the red hot hardwood coals and got cooking.  The process is called clinching and it disallows for fat flare up due to the lack of oxygen between the meat and the heat. A beautiful crust of tasty umami goodness is what happens and I have to tell you, it was FABULOUS!
Six pages of recipes and tips for a great summer BBQ is the result of this grand opportunity.  Easy appetizer starters inspired by your farmers market, sweet simple un-fussy side dishes and one of my favorite desserts are all there on the pages of EdibleHI.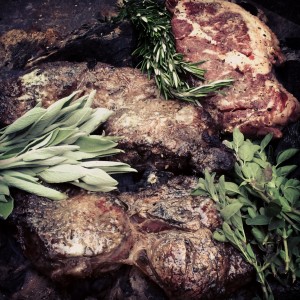 Check it out people, click on the link, read those recipes…and get grillin'.
{ 0 comments }