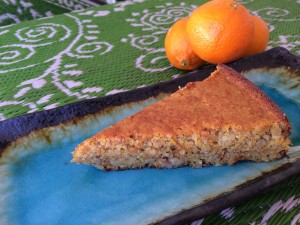 Whole ground tangerines, almonds, eggs and sugar make this cake a perfect little baking marvel.
When it's raining citrus what to do?
Make a cake.  But not just any cake, make a cake everyone can eat, that you can freeze, have for dessert, snack and breakfast.
What's this miraculous cake?  Clementine Almond Cake, that's what.  It's a very old British recipe with make incarnations.  Here's mine:
CLEMENTINE CAKE
Prep time: 10 minutes
Cook time: 1 hr. 40 minutes (Boiling clementines takes time)
Serves: 1 (9 inch) cake
INGREDIENTS:
Cooking spray with flour
6-7 clementines
6 eggs
1 cup
2 cups ground almonds
1 heaping teaspoon baking powder
PREPARATION:
I usually boil up a whole big vat of tangerines and then freeze them for later.
Put the clementines in a pot with cold water to cover, bring to a boil, and cook for 45 minutes.  Drain and cool.
At this point, you can freeze them whole for future cakes.  I divide them up into 6 tangerine bags for easy thaw.
Preheat the oven to 375 degrees F.
Generously spray an 9 inch springform pan with cooking spray with flour.  Line the bottom of the pan with parchment paper.
Grind the almonds and sugar in the food processor until very fine.  Be sure to add sugar to the nuts, so you don't end up with almond butter.
Add salt and baking powder to the almond mixture and process at bit more, until incorporated.  Empty the dry goods into a separate bowl.  No need to clean the food processor.
Add the clementines and the eggs process until smooth and fluffy.
Add the almond sugar mixture to the ground clementines and eggs and mix well. I like to do this process by hand with a rubber spatula.
Pour the cake mixture into the prepared pan and bake for 40 minutes to 1 hour, when a skewer comes out clean.  You might have to cover the cake with foil after about 25 minutes to prevent the top from burning.
Remove the cake and let cool in the pan on a rack.  When the cake is cool, you can take it out of the pan.
Sometimes I make an 8 inch cake, it just cooks a bit longer.
This cake is great drizzled with chocolate sauce (orange & chocolate are one of my fave food pairings), vanilla ice cream, chocolate ice cream, Maui vanilla bean mascarpone…you get the picture.  It's also mildly sweet so it's terrific at breakfast with a cup of tea or coffee on the side.  My beau likes it crumbled into some plain yogurt in the morning.  Also, great for all of us with gluten sensitivity.
{ 0 comments }